Our History
In 1992, Fresh Start founders Pat Petznick and Beverly Stewart formalized a foundation and established our first Board of Directors. In the early years, the foundation focused on fundraising and granting money to Arizona nonprofits serving women in need. Over time, Pat and Beverly realized there were big gaps in women's programs being offered in our community.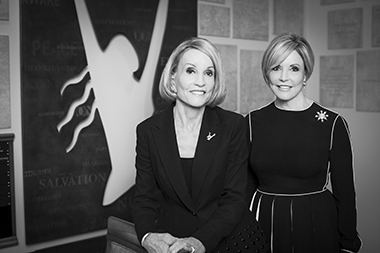 Beverly Stewart and Pat Petznick
Our efforts to close those gaps began with the formation of our mentoring program in 1998, and in 2002, the Women's Resource Center opened its doors and gave us ample space to welcome women to take advantage of our growing catalog of services.
As the organization grew, two new boards were added, bringing an impressive array of community leaders to the effort.
Timeline
1992 ~ Fresh Start is formed by Pat Petznick and Beverly Stewart with a one-year pilot program with the Governor's Office for Women and the Arizona Coalition for Displaced Homemakers.
1995 ~ Board of Directors is established.
1996 ~ Foundation begins offering grants to Arizona nonprofits serving women.
1997 ~ The Auxiliary Board is formed.
~ Bank of America lends office space to Fresh Start.
1998 ~ Fresh Start's Mentoring Program begins.
1999 ~ Men's Board is formed to raise money through the Charity Golf Classic.
2000 ~ A $7.1 million capital campaign launches to build a women's resource center in Phoenix.
2001 ~ Construction begins on the 22,000 square foot facility in November.
2002 ~ The Jewell McFarland Lewis - Fresh Start Women's Resource Center opens in October.
2003 ~ Certified Legal Document Preparers begin providing women with document preparation assistance.
2007 ~ The Fresh Start Gala raises more than $1 million for the first time.
2010 ~ Online learning programs launch.
2011 ~ Fresh Start Treasures Resale Boutique opens.
2013 ~ Career Center opens in partnership with Goodwill of Central Arizona.
2015 ~ Fresh Start established a $1.9 million endowment.
Get Started
Take the first step in the journey to the life you deserve. Learn more about attending the programs and services at Fresh Start!
Start Now