Upward Mobility Program
Join Fresh Start's New Program: Upward Mobility
The Upward Mobility program provides opportunities for women to become more resilient and career ready while being connected to training, education and networking opportunities for a self-sufficient and upwardly mobile career track. The program includes at least a 6 month commitment in order for participants to complete a personalized pathway through Fresh Start services, which will include a number of valuable personal and professional growth opportunities.
What Can You Expect as an Upward Mobility participant?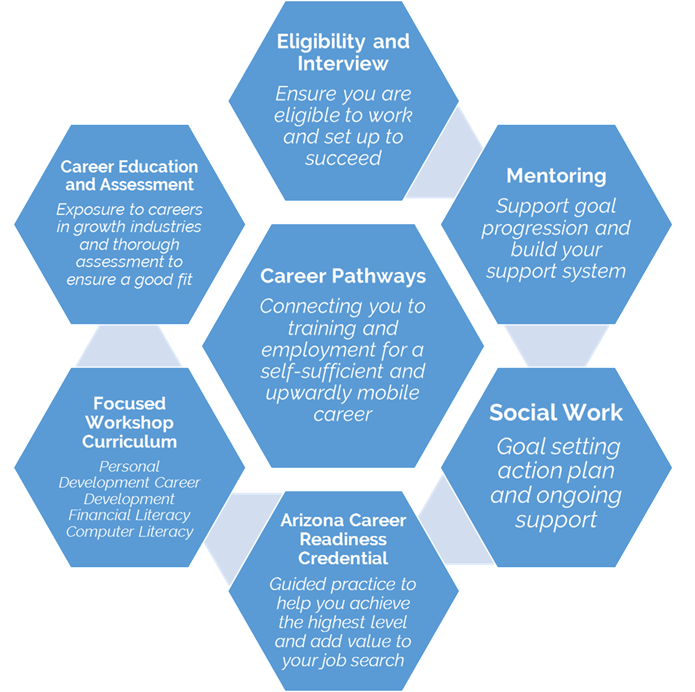 How Can You Join the Upward Mobility Program?
Program prerequisites:
Be 18 years or older.
Register as a Fresh Start client and attend the "First Steps" workshop by the application deadline.
Attend an Upward Mobility Information session within the past 4 months.
Be able to legally work in the United States.
Compete every section of the Upward Mobility appilcation, complete essay questions and upload all required documents by application deadline.
Scholarships for the Upward Mobility program are available via the E. Jean Goulet Upward Mobility Scholarship. In order to be eligible for the scholarship, you must be enrolled in the Upward Mobility Program. For more information please register for an Upward Mobility Info session – register online today.
Join an Upcoming Info Session:
Tuesday July 16, 2019 | 9:30AM - 10:30AM
Wednesday August 7, 2019 | 5:45PM - 6:45PM
Tuesday August 20, 2019 | 2:00PM - 3:00PM
Tuesday September 10, 2019 | 9:30AM - 10:30AM
Tuesday September 20, 2019 | 9:30AM - 10:30AM
Questions about the info sessions or program? Please contact Brittany Bryant (bbryant@fswf.org)