Upward Mobility Program
Take Your Career to New Heights with Upward Mobility
Become more resilient and career ready, and identify a career path that affords a self-sufficient wage and professional mobility!
The Upward Mobility program provides opportunities for women to become more resilient and career ready, with the potential to be connected to training, education, scholarship and employment opportunities in Traditional & Non-Traditional Careers.
Upward Mobility creates a personalized pathway through Fresh Start services, including a number of valuable opportunities such as the Employment Bootcamp, Mentoring program, Small Business Program, Women in IT, and Arizona Career Readiness Credential.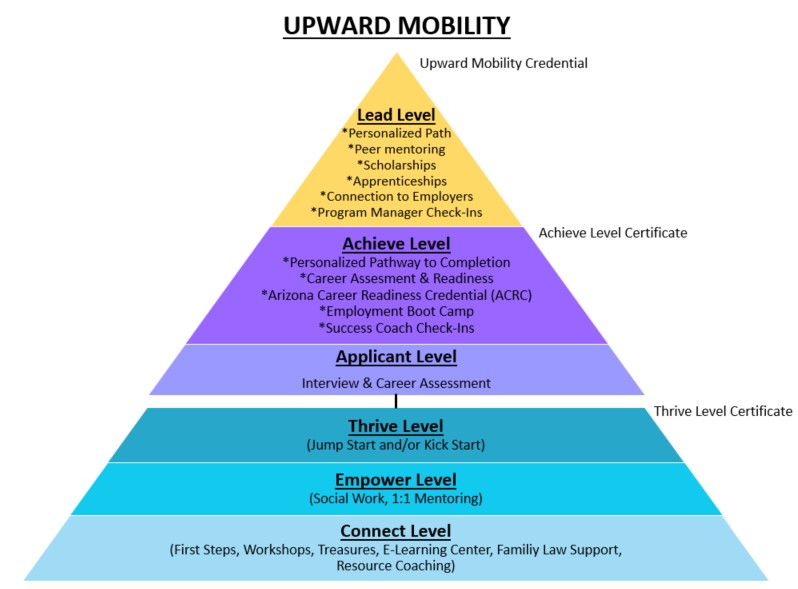 The 3-Tiers of the Upward Mobility program are as follows:
Tier 1 - Applicant Level
Tier 2 - Achieve Level
Tier 3 - Lead Level
Program prerequisites:
Be 18 years or older.
Be a Thrive Level member of Fresh Start
Attend an Upward Mobility Information session. View upcoming dates on the online calendar.
Be able to legally work in the United States.
Submission of required documentation discussed in the information session (e-verify, signed code of conduct, and completion of Self-Sufficiency Matrix)
Note: When available, scholarships for the Upward Mobility program are provided via the E. Jean Goulet Upward Mobility Scholarship. To be eligible for a scholarship, a participant must complete the Achiever level of the Upward Mobility Program and be a Thrive Level member. For more information, clients should register for an Upward Mobility Info session?
Questions about the info sessions or program? Contact Julie Schaffer at jschaffer@fswf.org