Debbie Hall Volunteer Spotlight
MEET DEBBIE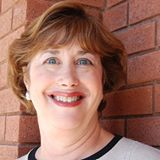 Debbie was born and raised in Phoenix attending Central High School and ASU for BS and MBA degrees. She worked as a CPA after receiving her BS degree for 5 years before returning to ASU's MBA program.
Following her MBA studies, Debbie worked for IBM in a number of technical, sales and management roles in the IBM Software group retiring after 26 years to pursue other interests. Following her retirement from IBM Debbie volunteered at Fresh Start and participated in the Encore Fellowship program through Experience Matters. She was recruited by Insight, HQ in Tempe, in 2013 to manage their IBM Hardware and Software business where she worked until March of 2019.
Debbie currently spends time volunteering for Fresh Start, Arizona Friends of Foster Children Foundation and participates in a Foster Care Review Board.
At Fresh Start, you can connect with Debbie in an Employment Coaching session or one of the Career webinars such as; Communicating Effectively in the Workplace, Conveying Professionalism, or Writing a Winning Resume & Cover Letter.
What do clients have to say about Debbie?
"Debbie did an excellent job conducting this class!"
"Great instructor, she was very patient."
"Thank you for the resume & cover letter workshop!! Now I can go seek a new career with confidence." "Gratitude, respect, and admiration to the wonderful host. Most informative, easily followed, answered all my questions to my delight and surprise. I am not easy to help. Namaste"
We thank Debbie for her commitment to our clients! She is such a wonderful addition to our team and we appreciate all she does for Fresh Start. Thank you, Debbie!